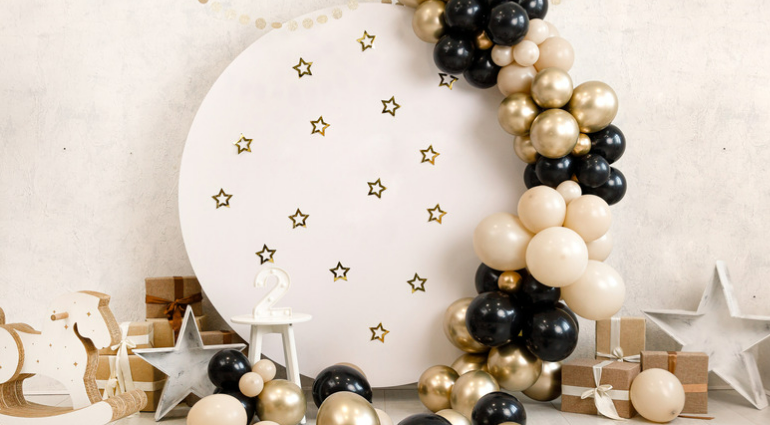 How To Make a Balloon Garland?
A vast and gorgeous garland of balloons, on the other hand, appears much more celebratory! A lovely composition like this is a simple, inexpensive, and adaptable method to modify the interior, adding some spice and brightness and creating a distinct ambiance for any occasion. We'll show you exactly how to construct a balloon garland in approximately an hour!
How To Make a Balloon Garland?
A Balloon Garland Kit Requires the Following Items
Balloons. First and foremost, which balloons should use for the garland? Regular latex balloons may fill with air or helium (the latter will float freely in the air). The most frequent sizes for interior usage are 9, 11, 16 inches round balloons, and 36 inches giant round balloons for outdoor use.
How many balloons are required for a balloon garland? It is determined by size, form, budget, and intended impact. On average, 28 medium-sized balloons are needed for every meter of fishing line length.
The garland's foundation is a fishing line. Choose one that is sufficiently thick (at least 0.03 inches in diameter) and translucent. Calculate the length of your line with a margin of 78 inches.
Pump for electric air balloons. The electric pump will enable you to manage the final size of the balloons, making the procedure much easier!
Command hooks are used to hang your garland. Themes are simple to install and remove from the walls and ceiling.
Cutlery (for cutting the fishing line).
Step-By-Step Directions for Making A Balloon Garland
Let's look at how to build a balloon garland out of a piece of fabric (our fishing line). Before you begin, please choose the size of your bouquet and the ideal position for its placement. You must also buy the necessary balloons (preferably with a margin).
Large ones are appropriate for creating a luxuriant design, but little ones will highlight the clean lines.
Depending on the size of your balloon garland, the complete operation should take around an hour.
Make sure you have enough line to inflate your balloons.
Make the fishing line 120 inches longer than the garland's length. Tie a balloon at one end of the rope to a stationary item (such as a doorknob), leaving about 20 inches free.
Pull the thread, secure it horizontally, and then knot the other end to another fixed item. You now have the ideal axle for your homemade balloon garland!
Make Balloon Bundles
The process of making a garland starts with the joining of two balloons. Let's call this a "duet."
Inflate two balloons, but do not knot the necks; hold them with your fingers. Then, braid their necks together carefully and create a sturdy knot.
After that, inflate a new color pair of balloons. You now have two "duets" to work with. You'll need to utilize them later to make another piece – the "quartet." Just twist two "duets" together to form a "flower" of four balloons.
Join The Balloon Bundles to The Fishing Line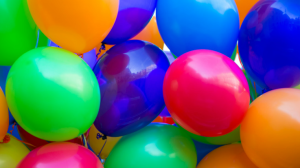 Draw the prepared fishing line between two sturdy and motionless objects. Be careful to leave at least 39 inches of free end on each side.
Attach the first "duet" of balloons to the line by locating it diagonally and holding it in place with your fingertips. Take the second "duet," link it to the first, and rotate it about the line's axis. It will put the foursome back on track. Repeat with the remaining bundles.
Mount Command Hooks on The Wall or Ceiling
Our balloon garland lesson has come to a close! It is preferable (and more visually attractive) to purchase a set of command hooks and install multiple fastenings (on the wall or ceiling) along the length of the garland, depending on the desired form.
DIY balloon garlands are used in a variety of ways.
Balloon garlands may use to adorn an event hall and rooms in your home, a building's exterior, staircases, advertising banners, store windows, entrances, stages, and advertising platforms.
Because balloon garlands are flexible constructions, you may give them whatever form you like based on your concept and the sort of event.
Decorating Your Holiday Table
Garland of balloons DIY compositions may be used as a romantic decoration for your celebratory table (for this, use smaller air or helium-filled balloons (the latter option looks incredibly unique since it floats wonderfully over the table).
Making Lovely Balloon Arches
You may make arches of balloon garlands to frame the main door or chamber entrances.
You should note that a balloon arch is a composition that requires a solid structure like a balloon tower (you can use plastic tubes or thick wire to create a frame). However, you will not have to fasten your garland to the wall!
Interior Design Zoning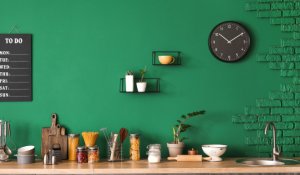 Balloon garlands assist in separating the interior of an ample space into several zones, providing comfort and regions for diverse functions.
A hot air balloon garland will enable you to swiftly and tastefully adorn the event hall's ceiling. There is nothing more lovely than a swarm of snow-white and blue balloons drifting underneath the roof and creating the appearance of an infinite sky right in your home!
Making A Photoshoot Background
You can make fantastic backdrops for photoshoots for toddlers and adults by using a balloon garland. You may make a masterpiece by simply utilizing balloons or mixing them with fabric or tinsel curtains.
Such a backdrop will undoubtedly draw attention and may even serve as the party highlight!
Making Themed Balloon Garland Arrangements
You may make unique themed compositions for festivities by mixing balloons of different colors, sizes, and forms in garlands (along with numerous decorative items).
You might, for example, make a frameless mini-arch and position a table with a bridal wishes book underneath it. You may also display images of the bride and groom on an easel here.
Conclusion
Balloon garlands (also known as balloon arches) are the perfect way to spruce up your next birthday celebration, baby shower, wedding shower, or dinner party. If you want to make your balloon garland and need simple instructions, you've come to the perfect spot! The materials and step-by-step instructions are provided above.