How to Unpair Apple Watch? – Step by Step guide
The Apple Watch makes it last. However, with each new generation of the Apple Watch, you become tired of your old one and feel the urge to replace it with a new one. You could even sell your old Apple Watch and use the proceeds to purchase a new one. If that's the case, we're here to assist you in figuring out how to unpair Apple Watch.
It's simple to disconnect your Apple Watch from a pair, but you must do it correctly if you don't want to lose data. Everything wipes and revert to factory defaults when you unpair your Apple Watch. If you wish to link it to another iPhone or resolve a watch problem, it is required. So, let's see how to detach Apple Watch from or even without an associated iPhone.
You may delete your Apple Watch either with or without your iPhone to pair Airpods. Some experts believe that having access to your mobile device is preferable, but we discovered that it is not required. Remember that to unpair your Apple Watch, you must have your iPhone nearby while unpair the two devices.
Here's how to unpair Apple Watch from your iPhone in detail
Step 1: Log in to the Apple Watch app on your iPhone.
Step 2: At the bottom of the screen, pick My Watch, followed by All Watches.
Step 3 – Inside the watch you wish to unlink, click the information button I
Step 4: Select the Unpair Apple Watch option, which will highlight in red.
Step 5: To confirm, choose Unpair Apple Watch once again. You will almost be prompt to enter your Apple ID password.
Step 6: Your Apple Watch is now ready for resetting.
How to Disconnect an Apple Watch from the Apple Watch?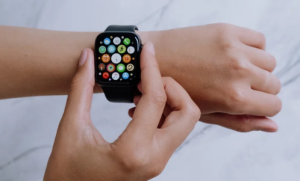 Don't worry if you don't have your iPhone nearby; you may unpair your Apple Watch simply by using your Apple Watch. You should never forget that the iPhone that links with the Apple Watch will prompt you for your Apple ID and password to unlock it and make it accessible to the new user. To perform all of the steps at once, we recommend unplugging your Apple Watch from your iPhone.
Step 1: Open the Apple Watch settings app.
Step 2: Go to General and then Reset.
Step 3: Choose Delete contents and settings.
Step 4: If prompted, enter the passcode.
Step 5: Choose Erase All and the Apple Watch will restart.
Step 6: Your Apple Watch is now ready for resetting.
If you've forgotten your password, here's how to unpair your Apple Watch
If you don't remember your passcode, you may also unpair your Apple Watch, albeit you'll need to keep your Apple Watch charged during the procedure. You should perform the following,
Step 1: On your Apple Watch, press the side button to turn it off.
Step 2: Continue pushing until you get the option Delete content and settings.
Step 3: To confirm the action, choose Reset and then Reset again.
Step 4: The Apple Watch will begin to unpair, and you will need to wait for it to finish.
Step 5: Your Apple Watch is now ready to be reconfigured.
How Do You Disconnect an Apple Watch from Your iPhone?
Ensure you erase any credit card information from your Wallet before disconnecting your Apple Watch from your iPhone. It is required.
When you're ready, go through the following steps
Keep both devices (iPhone and Apple Watch) nearby.
On your iPhone, launch the Apple Watch app.
Now, pick the My Watch option at the bottom of the menu and click on All Watches in the upper left corner.
Tap the orange information button.
Select Unpair Apple Watch and confirm by clicking Unpair once again.
If you want to couple your watch and phone again in the future, you must choose to keep them. If not, abandon your strategy.
However, it is better to terminate your membership with your cell service provider.
Last but not least, you must enter your Apple ID before continuing. And the work is finished!
Important
Instead of wiping the Apple Watch, press on the notification that says Start Pairing if you want to reset it.
How Do I Unpair an Apple Watch Without Using an iPhone?
Unpairing your digital gadget with the iPhone may not always be feasible.
Don't be concerned.
The Cupertino behemoth has made it possible to unpair your Apple Watch straight from the device.
Let us see what happens
You need to go to Settings.
Now, choose General.
Choose the option Reset.
Erase all content and settings should select.
If you want to retain your plan, choose Erase All & Keep plan.
After you've finished the process, go to iCloud.com to remove the Activation Lock from your computer.
Log in with your Apple ID.
Navigate to the Settings menu.
Apple Watch should list under My Devices.
To erase your Apple Watch, click the X next to it.
To finish the procedure, choose Remove.
Conclusion
When you unpair the Apple Watch to connect Airpods, everything on it is erased and reset to factory defaults. If you wish to pair or troubleshoot your watch with another iPhone, you must do this. Resetting your Apple Watch is reportedly simple, but only if you grasp the difference between resetting and unpairing (the former truly resets your Apple Watch, while the latter is a little absurd).
To unpair and reset an Apple Watch, you must first understand how to do so, as covered in this article. The preceding article is an all-inclusive handbook. You now understand not one but two methods for removing the Apple Watch from your iPhone. It's pretty simple. You only need to be sure you want to unpair rather than reset. The latter is an entirely distinct procedure.