driveJohnson's Celebrates 18 Years in Business
driveJohnson's Celebrates 18 years in Business
Running your own business isn't easy, especially when you start the business from scratch. According to research from Fundsquire, 20% of small businesses fail in their first year. Another 60% follow them within the first three years.
This month, driveJohnson's celebrates being in business for 18 years. What started as just one instructor and his car has since grown to over 600 instructors, covering most areas of the UK.
We got in touch with Anthony Johnson, the director, and asked him how it all started, the highlights, the challenges he faced, and what advice he would give to anyone considering starting their own company.
When I first decided to train to be an instructor, I never had a plan to grow the company. The goal was to qualify, provide the best service possible to my customers and, more than anything, enjoy going to work every day.
There are a couple of simple rules in business: Be an expert at what you do, and enjoy what you do. You will rarely find a successful business owner that lacks the relevant knowledge for their field, and doesn't enjoy their job.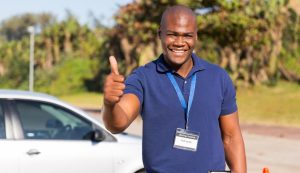 It takes time to become an expert; you must keep striving to improve, especially when you are your own boss. You need to find mentors who know more than you and learn from them as much as possible. Look after your mentors. Remember, they have helped you on your journey.
After qualifying, I trained my best friend to become a driving instructor. I was learning on the job, so I only charged him £10 an hour for the training, which at the time should have been around £30 an hour. He got a deal, and I gained experience quickly in instructor training.
This was a great decision, as it helped me gain more experience in my new career. However, I created a problem, as I now needed to get him work to ensure he was busy. Due to this I had to learn the relevant marketing skills quickly, in order to make the phones ring. We couldn't afford to pay thousands of pounds to the Yellow Pages back then, so I had to come up with innovative ways to make the phone ring. Where I lacked in marketing knowledge back then, I made up for in effort as I would often stay up until 2 a.m. working on the website and putting in the hard work.
The first five years were the hardest as I was young, inexperienced and still learning from my mistakes. We had around 15 instructors after five years. Only when we reached approximately 50 instructors could we afford to pay out proper money on marketing and take the business to the next level. By this time, I had learnt so much that I was able to start our own marketing company, which greatly assisted driveJohnson's in its growth. Another challenge is finding staff you can trust, and that have your back through thick and thin. If you can find a manager you can trust, you can invest all your time and knowledge into them which allows the business to continue to prosper. If you can get the staff right at the top, then this will filter through to everyone else in the business.
As the company grew to 200 and 300 instructors, I needed to find people who were better than me in the areas that I was unable to focus on as extensively, for example, sales. I'm pretty good at sales, but I'm often too nice. Being nice and giving stuff away is great now and again, but if you're not careful and it happens too often, this will affect your net profit line and jeopardise your business, and then you are no good to anybody.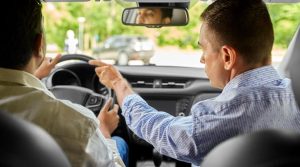 In business people see admitting a weakness as a negative, however, it's okay to admit your weaknesses and find someone better than you. You can only be a 10/10 in some things. I was a good all-rounder when it came to running the business, but you need to acknowledge when you need help and then find someone who is an 8 or 9/10 in the area you need help with.
After 18 years of business Anthony has encountered highs and lows, recessions, prosperous times and faced a global pandemic that would have crippled many businesses in his position.
Anthony shared his top moments from the last 18 years with us;
– Qualifying as an instructor – just about. I almost failed on my first attempt. Fortunately, the examiner used his discretion.
– Getting through the 2007-2008 recession. This was tough. I worked day and night, so the company could keep moving forward when many driving schools were going out of business.
– Becoming a grade 51/51 instructor on my standards check.
– Looking back at Covid-19 and how we dealt with it as a company I've never received so much positive feedback from our instructors regarding how I helped them. They have no idea how much I struggled at times, but it was all worth it when I looked back, and in fact, I quite enjoyed the challenge.
– I love helping instructors in tricky situations; I'm a very good problem solver. With my 18 years of experience, I have managed to help hundreds of instructors who will remember me for life for what I have done for them.
Overall, it's been a tough grind to get to where we are now, and we certainly wouldn't be in the place we are now if we didn't have the fantastic mentors, staff, managers, and instructors that I was lucky to work with. The one thing that does get easier is repeating the winning formula. It's always subject to change, but once you have found your successful winning formula, you keep repeating it and tweaking it for the better.
This will usually come to those business owners who don't fear failure and are eager to learn from their mistakes. Looking back over my 18 years in business, I have a significant amount of losses compared to wins. You have to lose to learn and get better, and if you accept this and have the mentality to deal with the losses and go again, you can run a successful business over a long period.