Things to Do in Weymouth – Top 10 Places
Weymouth, a veteran of the southern England tourist scene, is a charming Georgian town that fulfils all of the stereotypes of the English beach. It's everything here, from antique fish and chip shops to donkey rides on the beach, and it's all as deliciously tacky as ever.
King George III made it his summer vacation spot, visiting 14 times between 1789 and 1805. Weymouth offers one of the sunniest climates in the nation and one of the most incredible beaches linked by an esplanade lined with Georgian mansions.
Weymouth is developing a fresh, more sophisticated image as antique stores and artisanal coffee businesses sprout around town. All of this makes Weymouth an ideal destination to spend a couple of days, with the town's closeness to the beaches of the Jurassic Coast as an additional bonus. See the most incredible things in this famous beach town below.
Things to Do in Weymouth – Top 10 Things
1. Fort Nothe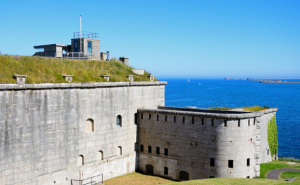 Note fort is a significant local monument that overlooks Weymouth Harbour. The fort, perched on the extremity of a grassy peninsula, was erected in 1860 to deter the French invasion. It has an interesting museum that covers the structure's construction and its 160-year history. Tickets are roughly £8 per person, with children entering for only £2 and children under the age of 5 entering for free.
2. Weymouth Harbour
Squinting at the painted buildings and restaurant terraces of Weymouth Harbour in the sunlight, you might be mistaken for believing you're in another country. These flat-fronted structures with bay windows, on the other hand, are unmistakably Georgian.
You may stroll around at your leisure, admiring the passing boats on the bustling river and browsing the little stores. Several cafés, bars, tea rooms, fish and chip restaurants, and cafes compete for your patronage.
In the summer, stores offer crabbing lines and bait, and you may try catching your own from the quays. The Weymouth Town Bridge opens 363 days a year every two hours to let water traffic across.
3. Weymouth Beach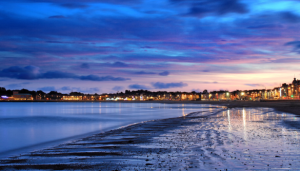 Weymouth Beach is a three-mile-long expanse of excellent golden sand bordered by the Esplanade, which has attractive Georgian terraces. The beach is a Blue Flag winner every year and is regarded as one of the greatest in England.
That has a lot to do with the gentle surf and the breathtaking vistas east along the Jurassic Coast to the White Nothe cliffs and Durdle Door.
But something about the sand bonds wonderfully, allowing youngsters to construct sand castles as large as their imaginations.
4. Sand world Sculpture Park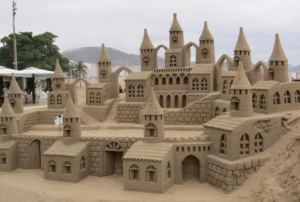 This location will perplex you, wondering how your sandcastles usually end up in a heap when these are so wonderful. The creativity engaged here is exceptional artificial grass. Expect sandy Darth Vader from a sandy galaxy far, far away, sandy Benedict Cumberbatch as sandy Sherlock Holmes, and potentially even sandy Daenerys Targaryen, Mother of Dragons. The entrance is also just £5.
5. Bibi's Boutique
A vintage apparel, gift, and homewares store with an ethical focus. With just one visit, your Instagram feed will be filled with gorgeous purchases, ranging from cacti-themed homeware to eco-friendly perfumes. The building itself is lovely and even has its coffee shop on-site.
6. Chesil Beach
Chesil Beach is well-known for being a rough representation of England's south coast at its most extreme. The beach is a sharp contrast to Weymouth Beach's charming attractions.
A stroll along Chesil Beach is both energising and calming, with the waves creating a beautiful soundtrack as they pound on the rocks onshore. Visit Chesil Coastline at dawn or sunset for a unique experience of this beautiful English beach.
7. St Alban Street
As a result of the abundance of independent stores and boutiques, St. Alban Street has been likened to Weymouth's version of Shoreditch because of its Georgian buildings built with paving slabs. Over 20 independently owned and managed shops, including a vintage vinyl record shop and a glassblowing studio, can be found in this charming city area.
8. Greenhill Gardens
Greenhill's beachfront includes a beautiful line of gardens with winding walks, ornate borders, carefully manicured lawns, and recreational amenities. The outstanding Green Flag award-winning Greenhill Gardens belonged to the Wilton Estate until being handed to the municipality in 1902.
In the summer, there are two cafés, Pebbles Cafe and Greenhill Beach Cafe, a wishing well, a floral clock, and several innovative flower arrangements. You may play a game of golf on the 18-hole putting green, or sit on a bench with a cup of tea and gaze out at the water.
9. Jurassic Skyline
An observation tower at the northern end of Weymouth Pier takes you to 53 metres. The Jurassic Skyline, which opened in 2012, is a circular gondola that rotates twice to provide 360° views of the town, English Channel, harbour, beach, and out along the Jurassic Coast to sights such as Portland, Lulworth Cove, and Durdle Door, weather permitting.
10. Portland Castle
Portland Castle, a coastal artillery fort, was built at the turn of the 1540s by Henry VIII as part of his King's Device programme to secure England's south coast against an assault by France or the Holy Roman Empire. For your tour, you will be given an audio guide to inform you about the climate during construction and explain each room's purpose.
Conclusion
If you're searching for a seaside escape that's a bit further off the beaten path than other places, why not check out our selection of the most okay things to do in Weymouth, on the Dorset coast? The harbour's painted homes, gaslights, and busy quays are other highlights.
The nearby Isle of Portland is the source of the sombre white-grey limestone utilised for a slew of world-famous structures, from St Paul's Cathedral to the United Nations Building.
This location is rich in natural beauty while still having enough places to eat, drink, and buy to keep things interesting on wet days. Whether you want to relax on the beach with an ice cream cone in hand or explore the area's cultural side, here's how to enjoy the best Weymouth experience.