Things to Do in Cornwall – Best 10 Things
Are you planning a vacation to England's beautiful southwest coast? Do you want to know what to do in Cornwall? If you're planning a vacation to Cornwall, you'll have a bucket list as long as your arm after reading this blog article, and you may want to consider extending your stay. Cornwall is a stop you should make on your UK road trip and is undoubtedly one of my top ten destinations to visit in England. Cornwall has a lot of great things to do. You are very spoiled for options.
Things to Do in Cornwall – Best 10 Things
1. Explore Bohemian St. Ives
Despite its rising popularity, the bohemian centre of St Ives, squeezed in the midst by two sandy beaches, continues to maintain its creative, independent attitude.
After the fishing sector declined, derelict lofts behind Porthmeor Beach were converted into artist studios, giving St Ives a new lease of life. Since then, artists have come here seeking inspiration in this lovely coastal town.
Most of the restaurants, bars, and cafés are located along the main strip along the front. But just a few streets back, you'll find white-washed laneways with modern art, hidden wine bars, and some of the most excellent coffee outside of London.
2. Uncover Desert Island Bliss At Pedn Vounder
Cornwall has beautiful beaches with golden stretches of sand kissed by blue waves. Family beaches with calm waves, hidden coves battered by increasing tides, and bays slammed by raging surf.
Pedn Vounder, on the other hand, is our favourite beach. It may easily be the gorgeous beach in the UK, tucked behind the cliffs in an isolated spot.
At high tide, you wouldn't see it, but at low tide, mother nature turns a rocky cove into a stunning unspoilt slice of heaven. Light glistens off a central sandbar on a clear day surrounded by granite cliffs and craggy headlands.
3. Eat at Hidden Hipster Haunts In Porthleven
Every year, 500,000 people visit Padstow, Cornwall's gastronomic capital. However, the crowded streets and long lines at the most common chain stores left us unimpressed.
Porthleven, a small fishing community with various food establishments clustered around the working fishing port, offers a considerably more rewarding gourmet experience.
We suggest Origin coffee, pastries, and Ced's, a quaint hole-in-the-wall bagel restaurant, for an on-the-go lunch. Radish, a vegetarian restaurant, is one of a few tiny outlets in Shipyard, a warehouse-style market. Porthleven is one of our favourite Cornish hidden gems, so visit before it's too late.
4. Surf the Waves at Watergate Bay
Watergate Bay is one of the best surfing beaches in the UK. The gently sloping sandy beach and constant surf, which faces southwest into the Atlantic rollers, is a hotspot for wave-riding aficionados searching for exciting adventure sports in the UK.
However, you do not have to be a pro to surf here. Swell levels vary depending on where you are on the beach, and the introductory instruction provides. We went with Extreme Academy, and although we didn't quite make it into the Blue Room (within the wave's curve), they did have us standing for a few seconds.
5. Potter, The Fishing Village of Polperro
Cornwall was supported for centuries by the sea. When they returned with their haul, fishers would seek refuge from the stormy seas in small harbours hidden in rocky bays. Many of these sanctuaries are now functioning fishing towns with tourist activity. While some have suffered due to commercialisation, others have effectively combined their two sectors.
Port Isaac in North Cornwall is a small tangle of tiny streets squeezed between cliffs and concealed behind a little port. Mousehole, in the west of the country, offers relaxing, unspoilt air and a few fantastic places to dine.
6. Swim Amongst the Rocks Of Kynance Cove
The whole Cornish Coast is rough and dramatic, but Kynance Cove is particularly lovely. The shoreline, battered by raging waves and howling winds, creates a curved line of multi-coloured rocky outcrops.
Sand swaths form between the craggy crags as the tide recedes. Explore underground tunnels, jump over cliffs into the sea, or take a ramble along the shore. It's one of our favourite sites in Cornwall to go wild swimming, and the secret Mermaid's pool is a terrific area to explore.
7. Photograph St Michaels Mount
A rocky outcropping is rising from the sea. The ancient church and fortress of St. Michaels Mount are one of Cornwall's most recognisable attractions. It is now jointly managed by the St Aubyn family and the National Trust.
8. Hike the Wilds of Bodmin Moor
Bodmin Moor, one of England's wildest and most isolated regions, is a wilderness area in the heart of Cornwall. Only rocky tors and abandoned tin mines break up the heather and bracken. Hiking on the moor is an excellent isolated activity in Cornwall.
9. Catch a Show at The Minack Theatre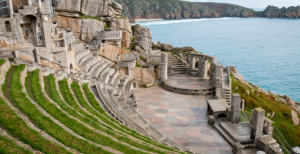 Porthcurno Beach is a lovely area in Cornwall with gorgeous beaches and picturesque coastal trails. The stunning Minack Theatre, carved into the cliff face, is a must-see site in Cornwall.
The inaugural performance at Minack took place in 1932, and successive decades have seen it ranked as one of the world's most stunning theatres. The vast outdoor terraced seating built within well-kept gardens follows the natural curvature of the bay and receives around 250,000 people every year.
10. Rejuvenate in The Gardens Of Heligan
Cornwall has some of the best gardens in the nation, with excellent conditions for a diverse range of species that are seldom seen elsewhere in the country. There are formal groomed gardens, natural forests, rainforest biomes, sculpture gardens with artificial grass and laid turf, subtropical paradises, and exotic blossoms.
Conclusion
Rugged coasts and lovely footpaths characterise this English county. Visiting here is necessary, even to escape the rush and bustle of larger cities. But guess what? Cornwall is much more than lovely beaches and excellent pasties. That's not to say the beaches aren't beautiful (they are) or the pasties aren't fantastic (they are), but Cornwall has a deeper – and some would argue more fascinating – aspect to it.