Things to Do in Norwich – Best 10 Things
Norwich, the county town of Norfolk, is located on the little River Wensum, close to the picturesque Norfolk Broads, which are interesting to explore by boat. Besides London, Norwich boasts the most medieval churches in England. Norwich, a thriving commercial and retail hub, is East Anglia's traditional capital, as shown by its magnificent Norman cathedral, castle, and several other historic sites. Continue reading our guide to the best 10 things to do in Norwich.
Its ancient gates and meandering passageways contain centuries of history. It's also a thriving cultural centre with much to do, from perusing the fantastic boutique stores to taking in the famed two-week-long Norfolk & Norwich Festival. This enjoyable festival is held in May and includes musical and dramatic acts and visual art displays.
Things to Do in Norwich – Best 10 Things
1. The Cathedral of Norwich
Norwich Cathedral, built about 1,000 years ago, rises above the city and is magnificent to see. When you arrive in the town, go inside to admire the majestic nave and the second-largest cloisters in England. Touring the Cathedral is one of the most incredible things to do for me. Furthermore, entry is free; you may give whatever amount you like. Also, don't miss Ethelbert Gate, one of the Cathedral's mediaeval entrance points.
2. Norwich Castle Museum
Norwich Castle's cube-like stone keep was erected at the turn of the 12th century and retained its Norman Romanesque blind arches. One reason the structure has survived to the twenty-first century in such fine form is that it served as a jail for most of the past 900 years, from 1220 to 1887. The Norwich Museum was transferred here in 1894 and still stands today.
3. Elm Hill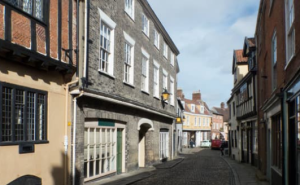 The winding path descends from St. Pete Hungate Church to Wensum Street. Elm Hill is Norwich's most beautiful and well-known street. Its cantilevered dwellings' consistent appearance may be attributed to a fire that destroyed Elm Hill and 700 other structures in Norwich in 1507. The Tudor merchant's homes that presently stand here were erected immediately after, and they are home to galleries, cafés, and businesses offering antiques, collectables, and arts and crafts.
4. Norwich Market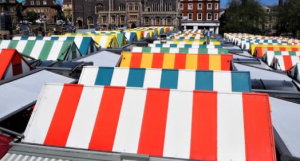 Open Monday through Saturday on the Gentleman's Walk under the Art Deco City Hall, Norwich Market is one of the UK's largest and oldest outdoor marketplaces. It was established in the late 11th century and has remained in the exact location ever since.
Up to 200 booths to choose from, each offering a unique experience. Flowers, home products, artificial grass, textiles, handicrafts, and more are available here. The major attraction is, of course, food; if you require fresh produce, vendors offer cheese, organic vegetables, herbs and spices, fish, and Norfolk meat. The aromas emanating from the street food booths may also entice you.
5. The Forum
The Forum is a contemporary community centre completed in 2001 and is open seven days a week. It replaced the Norwich Library, which burned destroyed in 1944. Everything from concerts and dance performances to art exhibitions and outdoor opera and theatrical performances may be found both within the Forum and outside the surrounding area.
Inside is England's most famous library, a café, restaurant, the tourist information office for Norwich, and the BBC's East Anglian headquarters. Norwich residents and visitors may come for painting and handicraft classes, bring their children for summer activities, explore food and handicraft markets, attend film screenings, and visit the ice rink in winter.
6. Sainsbury Centre for Visual Arts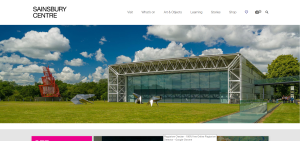 The Sainsbury Centre for the Visual Arts, founded in 1978 by husband and wife combination Norman Foster and Wendy Cheesman, is a High-Tech museum and art gallery.
The structure is located on the University of East Anglia campus and resembles an aviation hangar rather than a standard museum, featuring a 122m x 31m hall with excellent paving slabs design. This serves as a home for the Robert and Lisa Sainsbury Collection, which was given to the university in 1973 and included works by Henry Moore, Jacob Epstein, Francis Bacon, and Alberto Giacometti.
7. Plantation Garden
A beautiful Victorian garden in the valley of an ancient chalk quarry is a short walk from Norwich city centre. There are formal flowerbeds, grass, a magnificent Italianate patio, wooded trails, and a Medieval-style wall on barely three acres.
The garden has a neo-Gothic fountain and artificial ruins with gargoyles and a traceried Gothic window, both of which were popular in the mid-nineteenth century. The park had fallen into disrepair after WWII, but it was reopened in 1980 and now costs £2 to enter.
8. Strangers' Hall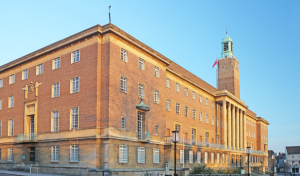 When Norwich thrived in the 14th century, this lovely half-timbered mansion housed mayors and essential merchants. The Stranger hall's home contains a maze of corridors, a Medieval vaulted undercroft, 17th-century bedchambers, an 18th-century Georgian dining room, and a wonderful tiny formal garden filled with lavender and topiaries.
9. Wensum River Walk
This walking path, which starts right outside the central railway station, is a great way to get to know Norwich. One of the things that shock visitors is how lush and quiet the Wensum River banks are, despite being in the middle of the city. The path passes through broad green areas where you can see Norwich's majestic Cathedral over cricket fields.
10. Pulls Ferry
The gorgeous view along the Wensum will be this 15th-century watergate on the other side of the river. A monastic waterway originally crossed under Pulls Ferry's Tudor arch. The construction material for Norwich Cathedral was delivered from Caen in Normandy.
Conclusion
Norwich, located in East Anglia, is one of England's most beautiful and ancient cities. The city is well over 1,000 years old, and there are several excellent things to do in Norwich scattered across the municipal borders. This is precisely why I like it; there is just so much to see and do during a long weekend! Plus, since it's just around 100 miles from London, it's a breeze to get there by rail. This makes it quite convenient to visit if you do not intend to drive throughout the UK.