Things to Do in Harrogate – Top 10 Best Things
Harrogate, a manicured spa town in Yorkshire, is often regarded as one of the greatest and happiest places to live in England. From the 18th century, aristocracy, entrepreneurs, and even a Tsarina flocked to Harrogate to drink the waters, which were heavy in sulphur, iron, and salt. Harrogate features one of only four Royal Horticultural Society gardens. There are castle remains, stately mansions and millstone grit rock formations hewn into strange forms by wind, water, and ice in the surrounding dales. Let's look at some of the top things to do in Harrogate,
Things to Do in Harrogate – Top 10 Best Things
1. The Stray
Image – Source
The Stray is a large city centre park and one of Harrogate's most well-known sights. Parliamentary legislation says the entire area may never be less than 200 acres. Except during the spring and August bank holidays, when they hold yearly fairs, the vast lawns are ideal for flying kites, playing football, or having a picnic.
2. Montpellier Quarter
Image – Source
Harrogate is fantastic for shopping, with the whole city centre functioning as one large retail complex. Montpellier Quarter is perhaps the most incredible part. In the picturesque ancient buildings that line the small cobblestone streets of Harrogate's old town, you'll discover antique stores, art galleries, and some high-end local boutiques.
If you're seeking more well-known brands, the Victoria Shopping Centre and adjacent streets will provide many options. They are conveniently located across the street from the railway station and central bus stop and are approximately a 5-minute walk from Montpellier Quarter.
3. Museum of the Royal Pump Room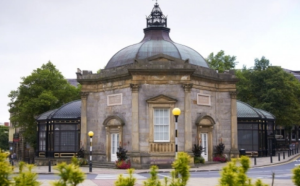 Image – Source
Harrogate became a renowned spa resort during the Victorian period due to the high sulphur content of the water. It drew the cream of British society at the time and prominent guests such as Charles Dickens and Tsarina Alexandra of Russia. It may have closed as a spa, but it now serves as a museum commemorating those glorious days. There are hotel alternatives around The Royal Pump Room if you want to come and stay nearby.
The museum displays an outstanding collection of Egyptian artefacts and some of the more unusual treatments that were popular when the resort attracted up to 15,000 guests each summer. This involves sniffing the eggy-smelling water and wondering how anybody believed drinking or bathing in it would heal gout or lumbago.
4. Valley Gardens
When it comes to seeing Harrogate in its heyday, there's no better place to go than Valley Gardens. On 17 acres, there are flowerbeds, forests, close-clipped lawns, and wandering walkways.
Harrogate's springs, 36 in all, were found here at "Bogs Field," and there are relics from the spa days in the sophisticated shelters, the Magnesia Well Cafe, the Games Pavilion, the Sun Pavilion, and the small stage that hosts concerts on Sunday afternoons in summer.
5. Betty's Café and Tea Rooms
Bettys Café Tea Rooms, a Harrogate tradition, was founded in 1919 by Swiss confectioner and baker Frederick Belmont. A century later, the private limited company is in its fourth generation and serves breakfast, lunch, and afternoon tea with a cuisine that combines Swiss and Yorkshire traditions.
Bettys' high reputation, however, is built on its afternoon tea, which includes the typical plate of sandwiches, elaborate handcrafted cakes, scones, clotted cream, and strawberry preserves, all tastefully presented with silver and suitable tableware.
6. Browse Space Vintage & Retro
A two-story retro, and vintage clothes, furniture, and music market with a café. Or, as it claims, 1,500 square feet of antique and retro adornment. Get a deal on women's and men's vintage apparel, mid-century furniture, antique watches, jewellery, music, books, or retro homewares that you cannot buy at high-street retailers. It's also underneath Tom's Social, so you can make a pizza and drink break in the middle of your rummaging.
7. Relax in a Turkish bath
While Harrogate's mineral-rich waters are no longer seen as a miraculous cure, they remain popular with people seeking relaxation. Around the city centre, various spas and health centres provide massages, body cleanses, and, of course, Turkish baths in the town's famous water.
The century-old Turkish Baths provide a variety of packages, most of which last over an hour and cost less than £100 per person. Because it is such an established centre, the baths have a traditional exotic appeal, offering the ideal soothing ambience for your time.'
8. Harlow Carr RHS Garden
Harlow Carr was founded in 1946 at a former Victorian resort on a natural spring and spans about 30 acres.
The bathhouse has been converted into a garden study centre with artificial grass, while the Limestone Rock Garden is the location of the capped spring and still has a mild sulphur odour.
9. Go for A Game of Golf
Harrogate boasts five excellent golf courses within close reach of the city centre. Most are on the outskirts of town or a short drive away, but one is directly in the city's heart. Each has distinct and appealing elements that welcome players of any skill or experience level.
10. Cold Bath Road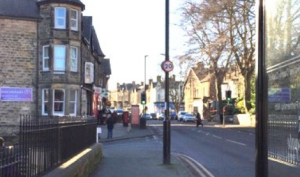 Image – Source
In a bohemian, Notting Hill-style neighbourhood, a lengthy stretch of excellent independent stores, bars, and cafés. It's a great street to walk along. Bias, a boutique full of outstanding British and Scandinavian brands, homeware, and gifts, is one of Cold Bath Road's highlights. Alternatively, Catherine Smith's Antique Boutique sells terrific vintage clothing. The Last Post is a great place to refuel.
Conclusion
Harrogate is England's traditional spa town, famous for its cream teas and Turkish spas, with beautiful lanes, old residences, manicured gardens, and many entertaining things to do. Life in Harrogate is tranquil, which is why legendary mystery writer Agatha Christie dug down here secretly when her marriage fell apart in 1926.
Along with its elegant beauty and soothing waters, the town is brimming with great independent shops, magnificent antique stores, and top-class comfortable pubs offering outstanding beer, all surrounded by rolling green hills. Follow in Christie's footsteps and discover this North Yorkshire sanctuary, which is just 40 minutes from Leeds and York and two hours and 45 minutes from London.