How to Get Started as an IT Consultant?
Whether you want to help companies stay up to date with technology or help them find new systems to streamline operations – sharing your IT expertise with organisations is an exciting prospect.
So, what steps should you take to get started as an IT consultant? We've compiled a list of things you need to consider to create a startup and grow as an IT consultant.
How to Get Started as an IT Consultant?
Choose a niche
To succeed as an IT consultant, it's better to pick a small service area and become known for doing just that. It doesn't matter if it's cyber-security, sec-ops, or cloud computing – just as long as it's well-defined.
To narrow your niche, ask yourself the following questions:
What matter are you an expert in?
What area do you have the most experience in?
What does your ideal customer look like?
What gap is the market not covering?
Try to find a set of services that only you can provide – you won't have to worry about competition in a category of one!
Set up your business
As a consultant, you'll operate a business like any other. The only difference is that you'll be the only employee.
This means you'll need to do everything you'd do to start a business. The process starts with registering your business.
Next, you'll need to take the necessary steps to protect yourself. This should include taking out comprehensive IT contractors' insurance for when things don't go to plan.
You'll also need to set your rates. Make sure you don't undersell or overcharge for your services. Either case can make it more difficult for you to find work and achieve your targets. It's best to do some market research prior to this stage to see how much other IT consultants are selling their services for.
Create an online presence
A strong online social media presence will help you market your services to potential clients.
Begin with your LinkedIn page. Optimise your profile, ensuring that you have a professional headshot, strong banner, clear summary, and details that relate your experience to your consultancy offering. Try to post helpful, educational content that's aimed at your ideal customer base on a regular basis. And make sure to engage with other experts in your niche and the wider IT field – this is key to building a following.
You'll also need to create a website for your consultancy business. It should include a homepage that clearly communicates your expertise and value proposition. You'll need persuasive landing pages for each of your services. And, crucially, you need to include clear contact details that will make it easy for leads to get in touch.
Search for work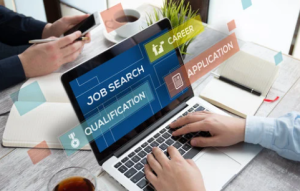 Building an online presence should help you organically attract clients over time. But when you're starting out, you may need to use more direct marketing methods.
Develop a strong pitch that you can make to businesses that may need your help. You can then select your preferred method of delivering pitches, choosing from cold emails, networking conventions, or other tactics. Or a mix of all of them.
Iterate
We've discussed how to get started as an IT consultant. But remember that this is just the beginning of your journey, and there'll be a long road ahead.
Your niche, business, and marketing strategy will change over time. This is natural, as experience as a consultant will teach you new things about what organisations need, your industry, and running your own consultancy business.
You'll need to be open to considering new approaches, being ready to double down on what works and leaving what doesn't. The act of iterating and refining your process is what will take you from getting started to succeeding as an IT consultant.