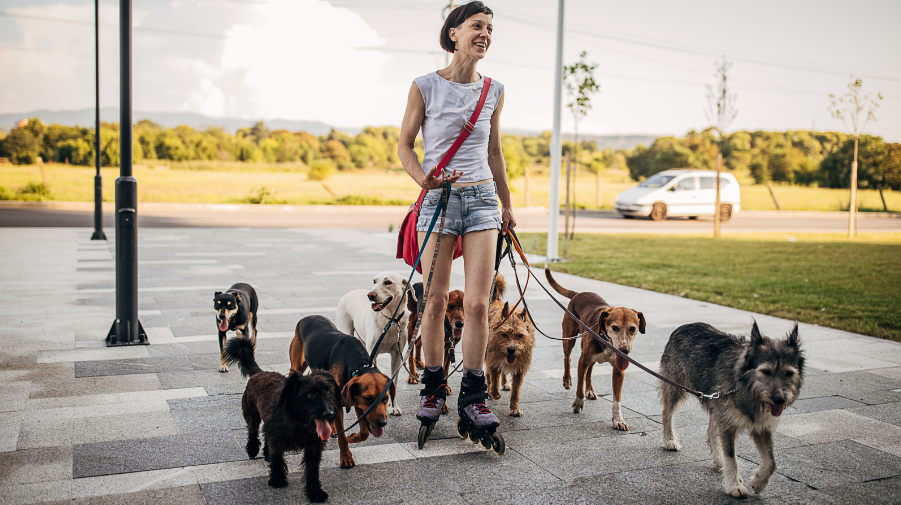 How to Become a Dog Walker in UK?
People who like the outdoors and have a passion for dogs may have explored dog walking as a professional job. There are several methods to begin working as a dog walker. You should start slowly, offering a modest helpful service before diving in. After all, you may discover that you are unsuitable for dog walking in the wind, rain, and snow.
A profession as a dog walker may obtain in a variety of ways. Joining a firm that offers pet sitting or dog walking services is one alternative. Another alternative is to start your local firm and work as a freelance dog walker. Dog walking may be a fun and flexible way to earn money for anybody who likes animals. This post will look at how to become a dog walker in UK.
Do dogs need daily walks?
Dogs need daily walks to stay healthy. Dogs with a lot of energy need 2-4 walks a day. Dogs in good health go for walks often. Dogs look forward to seeing people every day. A set schedule is suitable for dogs. Happy, wagging-tailed dogs generally greet Dog Walkers. 'Walkies' benefits dogs' physical, mental, and emotional health.
Is dog walking beneficial to dogs?
Walking keeps a dog's joints and muscles working, which helps to keep them healthy. It keeps their weight and digestive system healthy, especially if they overeat and binge on leftovers. Dogs' mental health is affected by outdoor activity. Kids may examine sights, scents, and sounds while walking. Dogs are naturally curious and benefit from sensory-stimulating activities.
Dogs like socializing with other animals, particularly other dogs; Canine socializing is critical for a dog's cognitive and behavioural development. They mimic the behaviour of other dogs. Regular exposure to well-behaved dogs can make them feel confident and joyful.
How to Become a Dog Walker in UK?
Below are some basic methods on how to become a dog walker that may assist you in establishing yourself and growing your customer base in your local area:
1. Develop the abilities required to be a qualified applicant
Anyone considering becoming a professional dog walker should realize that there are no pre-requisites for doing so. However, choosing the high school or college topics that can appropriately launch your career might be advantageous. Many universities offer animal husbandry degrees that might help you stand out from the pack as a dog walker.
Look for classes that educate you about animal nutrition and behaviour. If you walk dogs or provide residential care for them, even simple training that enables you to detect health concerns may be incredibly beneficial. Understanding animal behaviour may also help you if you have nervous, shy, or anxious pets.
2. Gain job experience by applying to a well-known organization
In several parts of the country, well-known companies provide pet sitting and dog walking services for customers' pets. Many of these businesses offer short-term or part-time work opportunities, which may be an excellent way to get experience.
It is also helpful to have this kind of expertise on your resume if you later decide to start your dog walking business. By registering with a well-known organization, you may relieve some of the strain of finding your clientele. Over time, you may expand your knowledge and experience to perform more freelance dog walking in your neighbourhood.
3. If you work as a freelancer, learn how to advertise your company and get customers
Starting your own company might be difficult, but it can eventually help you find meaningful long-term employment as a dog walker. Investigate rivals in the region to assist in developing a price strategy.
It might assist you in learning how to sell yourself effectively via local advertising. Consider what additional types of services you may be able to provide to differentiate yourself. If you also offer pet sitting or grooming services, you may seek to broaden your clientele.
4. Learn about additional dog walking criteria to improve your employment
People like their dogs and want to know they entrust them to someone trustworthy. Your customers may allow you unfettered access to their homes or gardens in rare situations. While a strong affection for animals is helpful, you may also take additional practical efforts to demonstrate that you're someone they can trust to enter their house and care for their pet.
Showing a completed Disclosure and Barring Service (DBS) check is one of the most obvious things you can do. It may find on the website of the government. You give basic information about yourself, like where you've lived for the last five years and your national insurance number. You must also provide copies of the papers that show who you are.
What credentials are required to work as a dog walker?
Dog walkers may be asking whether they need any special training or certifications to get a job. Although no official certificates are necessary to work as a dog walker, there are some training courses you may attend to improve your employability by displaying extra, relevant abilities. Studies in pet first aid or animal behaviour, for example, might be included.
These courses are available in colleges and universities and via night schools or remote learning if you wish to study in your free time. You may start your own pet care business, or you can join an existing dog walking firm to get experience before going out on your own. They may have specific admission criteria if you enter a firm, but your personal qualities are likely to be as significant.
Conclusion
Why not start your dog walking business if you love animals and want to spend your whole day in the company of dogs? It's an excellent employment choice for any dog lover, and it allows you a lot of freedom and flexibility with your schedule, which is essential to many individuals.
However, many individuals interested in dog walking are unaware of how to become a dog walker or what credentials are required. The above guide explained how to become a dog walker in UK.